[ad_1]

Customer service in a business is like watering a plant – without putting effort into it, you can't grow your business. And, companies are scrambling to improve this sector as a business growth material.
In order to provide great customer service, it's crucial to apply diverse strategies for improvement. Therefore, prioritize reading industry-specific books if you're keen to delve into this trending topic.
However, in some online sources, people are referring to a large number of books, often exceeding 30-40, which can create too much confusion. So, today, we'll tell you only about the 5 best customer service books that can actually skyrocket your customer service growth. Let's dig in!
5 Best Customer Service Books
1. The Effortless Experience: Conquering the New Battleground for Customer Loyalty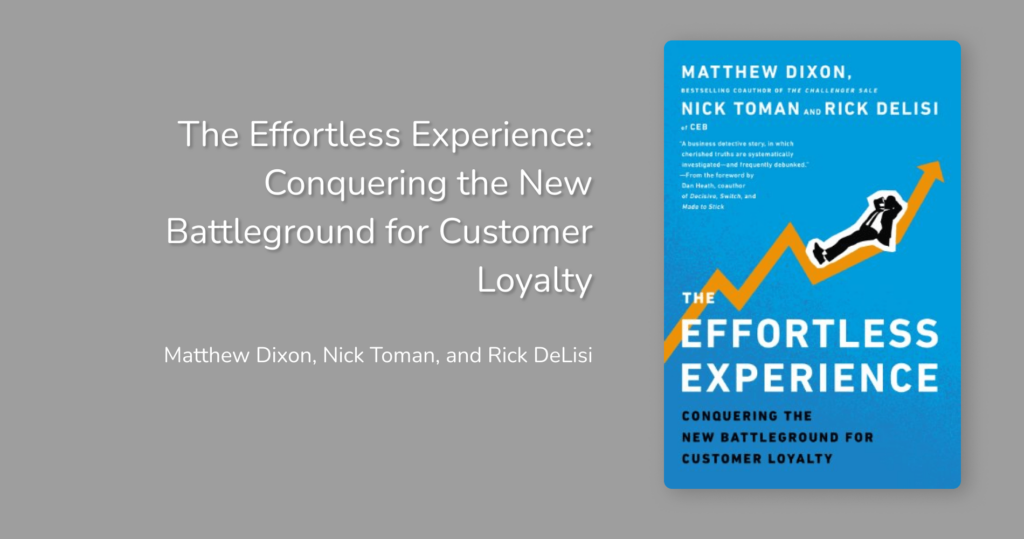 Many organizations follow a popular guiding principle: "The way to win customer loyalty is to delight them." But what if they are wrong?
Three salesmen named Matthew Dixon, Nick Toman, and Rick DeLisi teamed up to share research findings that challenge conventional belief. They demonstrate that the key to winning customers' loyalty lies in providing an effortless experience, rather than focusing on delighting them.
Most customers don't want to be wowed. They want an effortless experience. Besides, they are way more likely to punish you for bad service than reward you for good service. 
The effortless experience offers readers a fascinating, in-depth journey through the customer experience to understand what really makes customers loyal or disloyal. 
The essence of this book's message is that customer service alone does not drive loyalty. Instead, by prioritizing the reduction of customer effort, one may be pleasantly surprised by the resulting outcomes.
It's important to note that this publication does not offer a broad perspective on customer service; rather, it specifically concentrates on service recovery.
Here, they've discussed four pillars for reducing the effort to increase loyalty. 
Make self-service easy and sticky.
Minimize the need for repeat calls or contact.
Reduce customers' perceived effort.
Give reps control over customer interactions.
The book is based on extensive research and case studies. Overall, it is beneficial for businesses that are looking for customer satisfaction, increasing customer loyalty, and separating themselves from their competitors. 
Customer review
"Great read. Study of what customers currently need from a business through customer service interactions. Results from actual studies of call center supervisors, reps, and the customers themselves. Actual practical advice on how to use the information in this book in real business settings."
A popular quote from the book
"You need to give your customers fewer reasons to be disloyal, and the best way to make that happen is to reduce customer effort."
Authors:  Matthew Dixon, Nick Toman, and Rick DeLisi
Publishing Year: 2013
Length: 256 pages
Language: English
2. The Customer Rules: The 39 Essential Rules for Delivering Sensational Service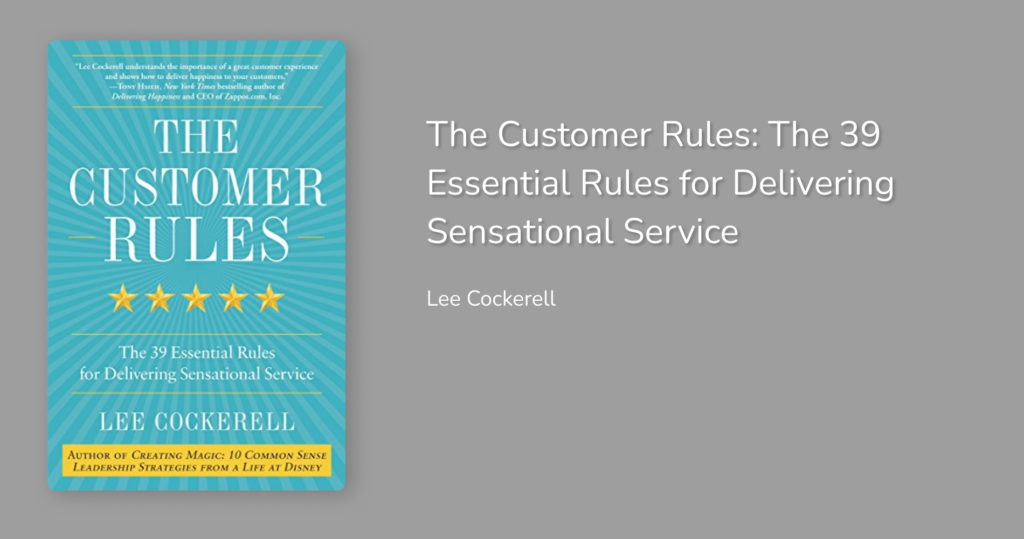 Former executive VP Lee Cockerell from Walt Disney shares important rules for providing amazing consumer service that is consistent, efficient, creative, sincere, and excellent. 
He has more than 40 years of experience in the hospitality industry, creating an environment that keeps customers coming back for more. He knows that success in any business depends on winning and retaining clients.
In this book, he has shared 39 digestible and bite-sized chapters that he learned from his enduring career. I am pointing out six rules discussed in his books. This will give you a basic idea of these rules, and you can then decide whether to purchase the entire book.
Customer service is not a department.
Great service follows the laws of gravity.
Ask yourself, "What Would Mom Do?"
Be a copycat.
Treat every customer like a regular.
Don't try too hard.
Here, Cockerell emphasizes the significance of treating customers with respect and empathy. Moreover, He guides how to conquer consumers' expectations and create an experience they will never forget.
Be where your customers are!
Hear your customers wherever they need you.
If you want to deliver exceptional service to your clients, you must go for this book, as it comes up with practical advice and insights for your service.
Customer review
 ''Really great book to remind you of the fundamentals of customer service. A good tool to have on your shelf is to reference examples given in the book.''
A popular quote from the book
"Your customers hold you to a high standard. If you want to achieve true excellence, raise that bar even higher for yourself, your colleagues, and everyone around you."
Author: Lee Cockerell
Publishing Year: 2013
Length: 208 pages
Language: English
3. Hug Your Haters: How to Embrace Complaints and Keep Your Customers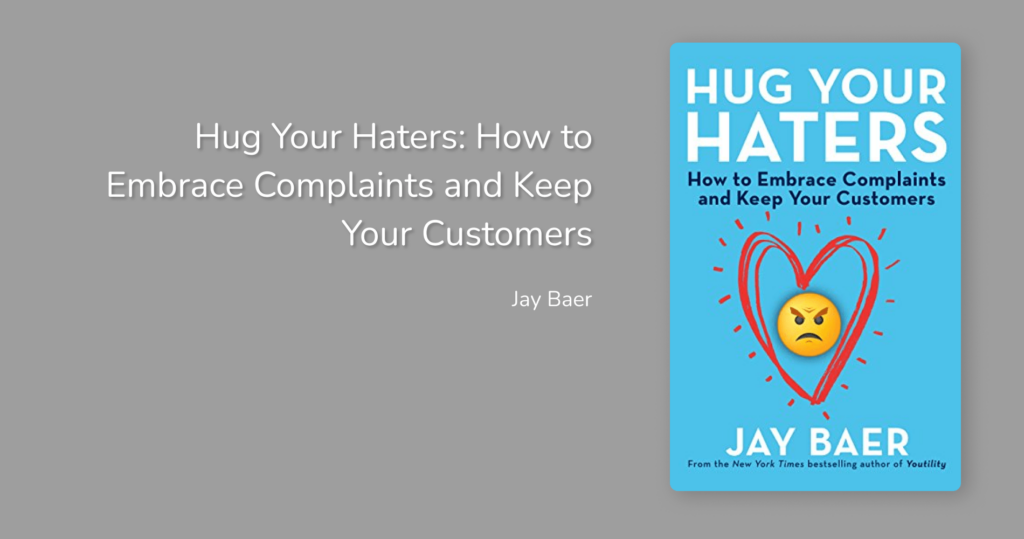 Jay Baer is a marketing expert and president of the global consulting firm Convince & Convert. Numerous businesses have disgruntled consumers, and chances are you are one of them. 
That's totally common and acceptable. Jay Baer's guidelines can remove this typical problem. 
You will learn how to listen to and respond to negative reviews. Furthermore, you may convert your crabbiest customer into a big fan as well as a business promoter. 
The crabbiest customers are crucial for criticism. Receiving criticism can be difficult. According to the author, you have to respect it and inform your customer that you are offering a solution. Offer them support and some benefits, like discounts or giveaways. Consequently, you will be more likely to get through any situation successfully. 
The book suggests that keeping a small percentage of loyal customers can grow to 85 percent of your profit. That's a great business strategy!
Thus, consumer retention is far more important for success. If any of your consumers are facing negativity using your service or products, focus on that and delight the disgruntled customer by following the guidelines of the author. 
One thing to be aware of is that you should work on your negative consumers as early as possible before the lousy words spread in the community. It will be a great decision for you to implement the guidelines of Jae Baer for the betterment of your business.
Customer Review
"Many books I've read on anything remotely related to digital marketing are based on the author's experience alone. This book is filled with data from Edison Research and examples from business owners in various markets. Extremely helpful, useful, and always kept handling for data.''
A popular quote from the book
"Hugging your haters is not a cost. It's a profit center"
Author: Jay Baer
Publishing Year: 2016
Length: 240 pages
Language: English
4. Ignore Your Customers (and They'll Go Away): The Simple Playbook for Delivering the Ultimate Customer Service Experience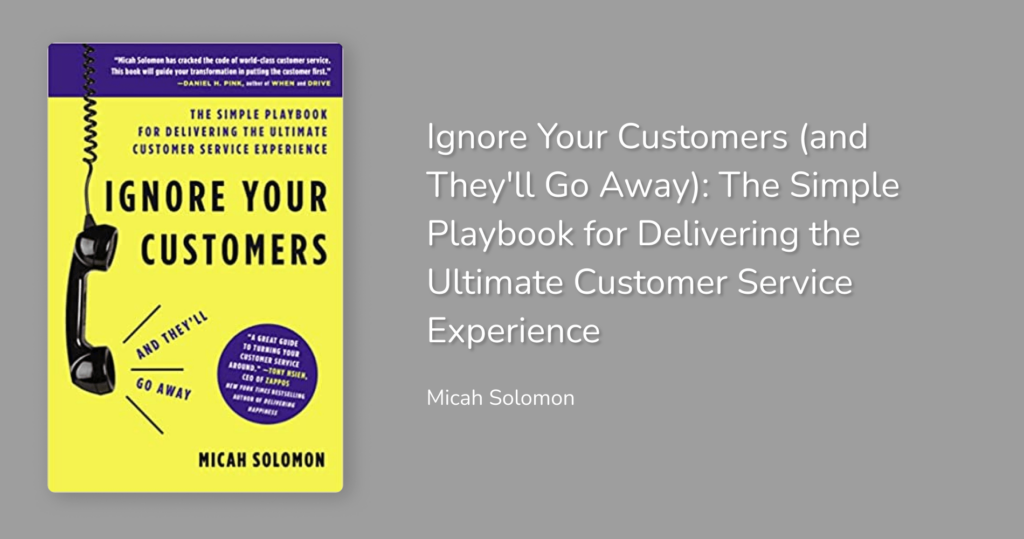 The author, Micah Solomon, a customer service consultant, shares that customers are the lifeblood of any business. Hence, he prioritized consumer service as the top strategy for the business's growth. 
Yet many companies tragically miss the mark when it comes to providing customer service and a positive customer experience. If you are wise enough, you might not want to miss the mark. You must focus on crafting overall consumer service.
Therefore, Micah Solomon explained step-by-step knowledge to craft a customer service culture and customer experience. Consequently, it will probably profitably expand your business and boost your bottom line.
Throughout the book, you will find moments of delight as you encounter the author's inspirational and often hilarious tales. These anecdotes will take you on a practical journey, offering insights to enhance service across various sectors.
There's a ''behind the scene'' moment with Zappos' CEO Tony Hsieh, and find out how Zappos provides "wow" customer service. You will meet Richard Branson to find out how Virgin Brands provides authentic consumer service.
Also, you will find out Branson's techniques for transforming social media attackers into brand advocates.
Customer Review
"At a time when customer service seems like a dying art, Micah Solomon delivers the perfect book for anyone who cares about the work."
A popular quote from the book
"A wow experience is when a service provided to a customer goes beyond fulfilling basic expectations and does so in a creative, unexpected way."
Author: Micah Solomon
Publishing Year: 2020
Length: 240 pages
Language: English
5. Be Our Guest: Revised and Updated Edition: Perfecting the Art of Customer Service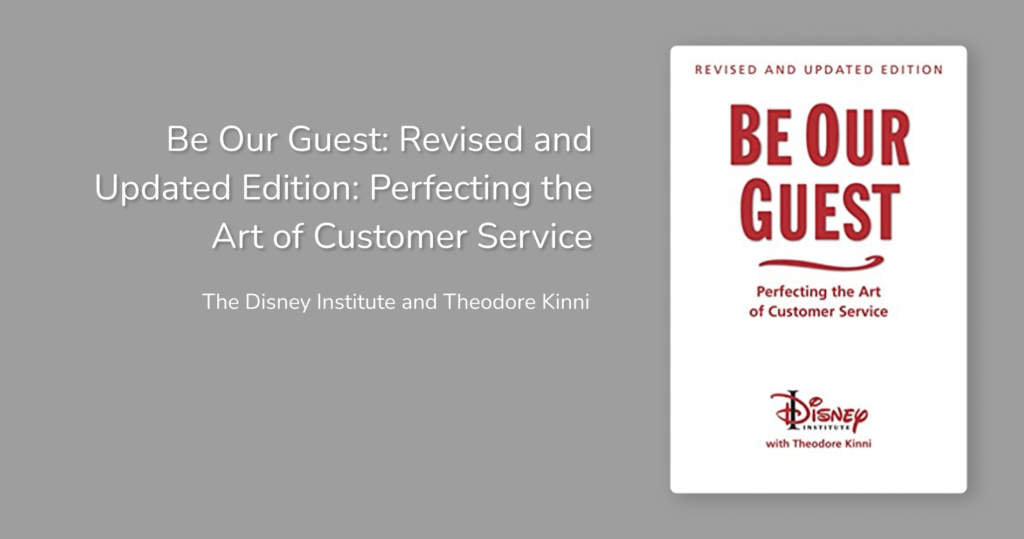 Theodore Kinni and the Disney Institute are the authors of this amazing creation discovered for customer service.
"Be Our Guest'' demonstrates practical ideas and strategies that create a customer service experience. These ideas and strategies result in an excellent customer service experience. 
Mainly, this book shines a spotlight on Disney's strategy to establish a customer-centric culture. It outlines Disney's philosophy and system for taking care of customers. The philosophy and system helped Disney become a successful business empire.
It emphasizes a variety of subjects, including:
leadership style and company culture
engagement and empowerment of employees
creating a welcoming atmosphere
Moreover, it offers real-life examples from Disney and other businesses that have effectively executed customer-centric tactics. Overall, "Be Our Guest" presents a unique viewpoint on consumer service that is insightful and practical.
Customer Review
"This book is an essential read for anyone interested in getting to grips with how Disney consistently delivers top-quality service. The methods are easily transferable to any organization - you don't have to be running a theme park to get something out of this. Probably the most useful business book I have ever read."
A popular quote from the book
"I don't want you guys sitting behind desks. I want you out in the park, watching what people are doing and finding out how you can make the place more enjoyable for them."
Author: The Disney Institute and Theodore Kinni
Publishing Year: 2011
Length: 224 pages
Language: English
Wrapping Up
Each of the mentioned books is highly recommended for employees. Feel confident in making a purchase. And, explore ways to implement the ideas presented within these books in your business.
So, which book are you going to choose first?
Take your time to select the book that intrigues you the most. Once you've made your choice, feel free to share your decision in the comment section below. We would love to hear your thoughts and insights on the book you've opted for!
Thank you for your time!
Your own Support Portal in 5 minutes!
Start off with a powerful ticketing system that delivers smooth collaboration with unlimited room for your customers.


[ad_2]

Source link