[ad_1]

This post may contain affiliate links. Read our disclosure page for full details.
This is not the ultimate guide to Zion National Park. This is not the essential bucket list of things to do in Zion National Park. What it is is an overview of the trip we took to Zion in May 2021, and how we planned and had an excellent time spending just 2-3 days in Zion. If you're looking for a low-key visit to Zion that doesn't try to cram everything into a few days, or you're looking for a straightforward guide on what to do in Zion, where to camp in Zion, etc. this article will help you! 
PS: Heading to the Grand Canyon after Zion? Check out this fantastic road trip itinerary for an awesome trip.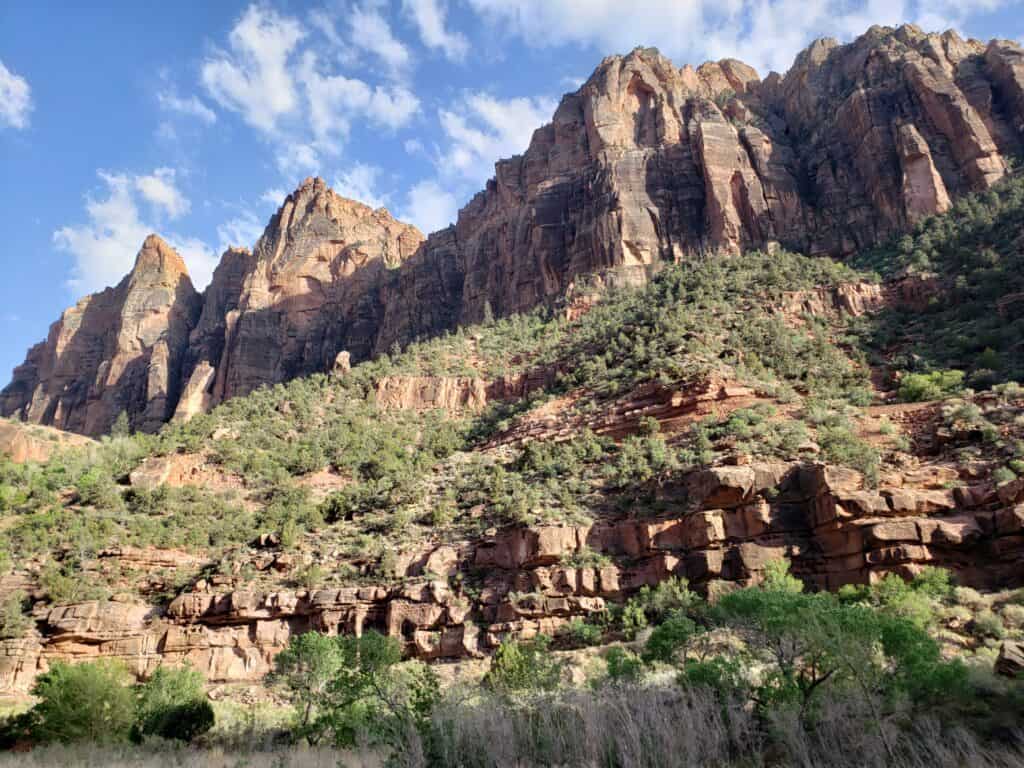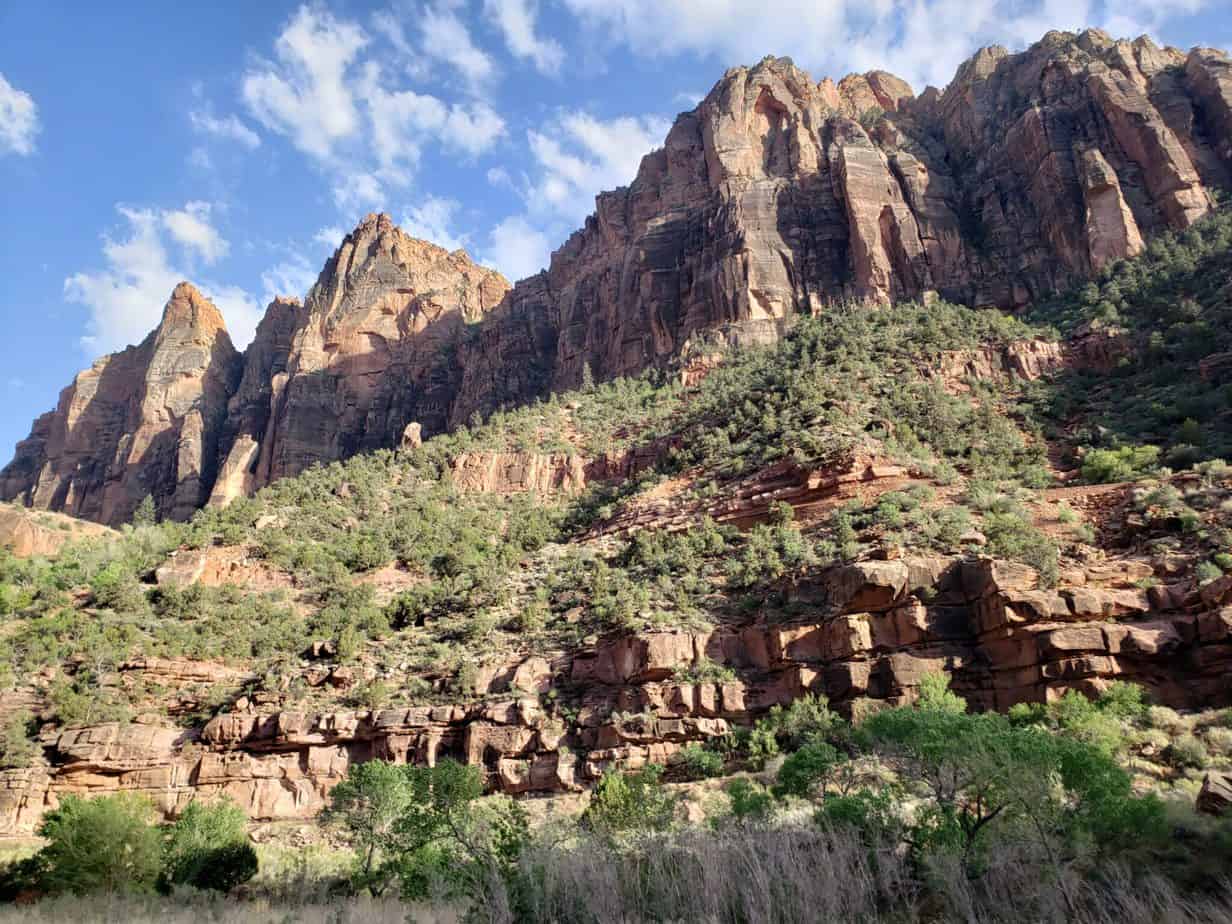 Visiting Zion National Park 
Let's get one thing out of the way. Zion is extremely popular. It is among the top 3 most popular National Parks and for good reason—it's really beautiful. But if you're planning to visit Zion National Park soon, you should know that it is incredibly busy and crowded, especially during the late spring and summer months. So be prepared for that and plan accordingly with the following tips:
How to Avoid Crowds in Zion National Park
Don't go (just kidding! But pick a good time)

Go in the off season or shoulder season
Consider visiting Zion outside of the busy summer months. While winter may be chilly, and some of the hikes not possible, it's a stunning place in every season. As an added bonus, you don't have to worry about shuttles in winter: the Zion Canyon road is open to private cars at that time!
Every popular spot is going to be less crowded on weekdays. 
The best way to beat the crowds is to start early. Not just your hikes, but getting to the park itself. Even the National Park Service recommends getting to Zion hella early, or parking in Springdale. According to the website, "Parking is usually full by 8-9 am. The best way to avoid delays entering Zion is to park in Springdale and ride the town shuttle to the park."
On our trip, we hiked The Narrows on a Saturday morning (broke the rule of avoiding weekends, whoops). We got started around 8am on our shuttle, so were hiking around 8:30am. It was fairly busy, but not overly so at this time. However, on our way BACK down The Narrows a couple of hours later, the once-pristine river was beginning to take on a zoo-like quality. In all honesty, it was hard to find places to walk and we had to take turns with other hikers in many spots along the way. So go, early—like 7am early.
You'll definitely want to arrive early to the park in general. Lines to get in (both car and pedestrian/bike entrances) were growing long by mid-morning. And as the NPS recommends, it may be advisable to park somewhere in Sprindale (the town right by the park) and take one of the town shuttles to the park proper. The parking within Zion fills up FAST.
Choose less popular hikes/stops
Another option for having a chill trip to Zion may involve selecting less-popular sites and hikes. This isn't ideal for every traveler; some of us couldn't THINK of visiting Zion without tackling Angel's Landing. But if you're more flexible, you may find you have a better experience. The Narrows and Angel's Landing are the two most well-known "big" hikes, but there are plenty of other options to keep you busy.
We heard many travelers talking about Emerald Pools trails being really worthwhile. On one day, we hiked The Watchman trail, which was not particularly busy (though we did climb it in the heat of the day—another big NO-NO. Please learn from our mistakes lol!) We loved this hike, which had some challenging uphill sections but ended with spectacular views.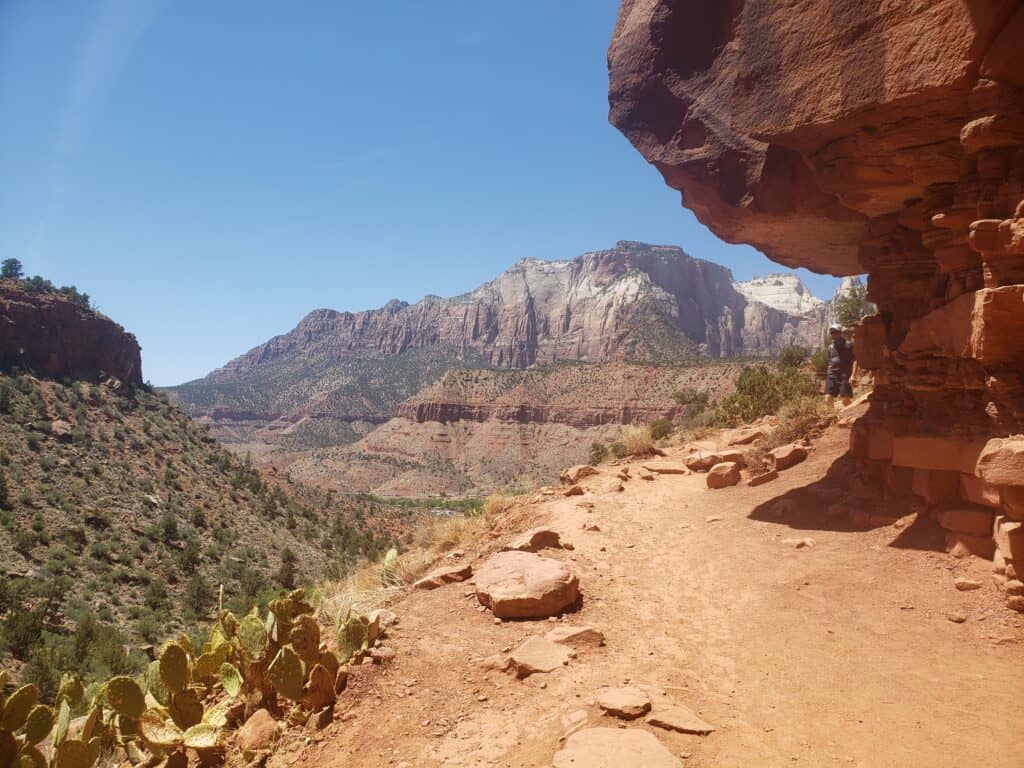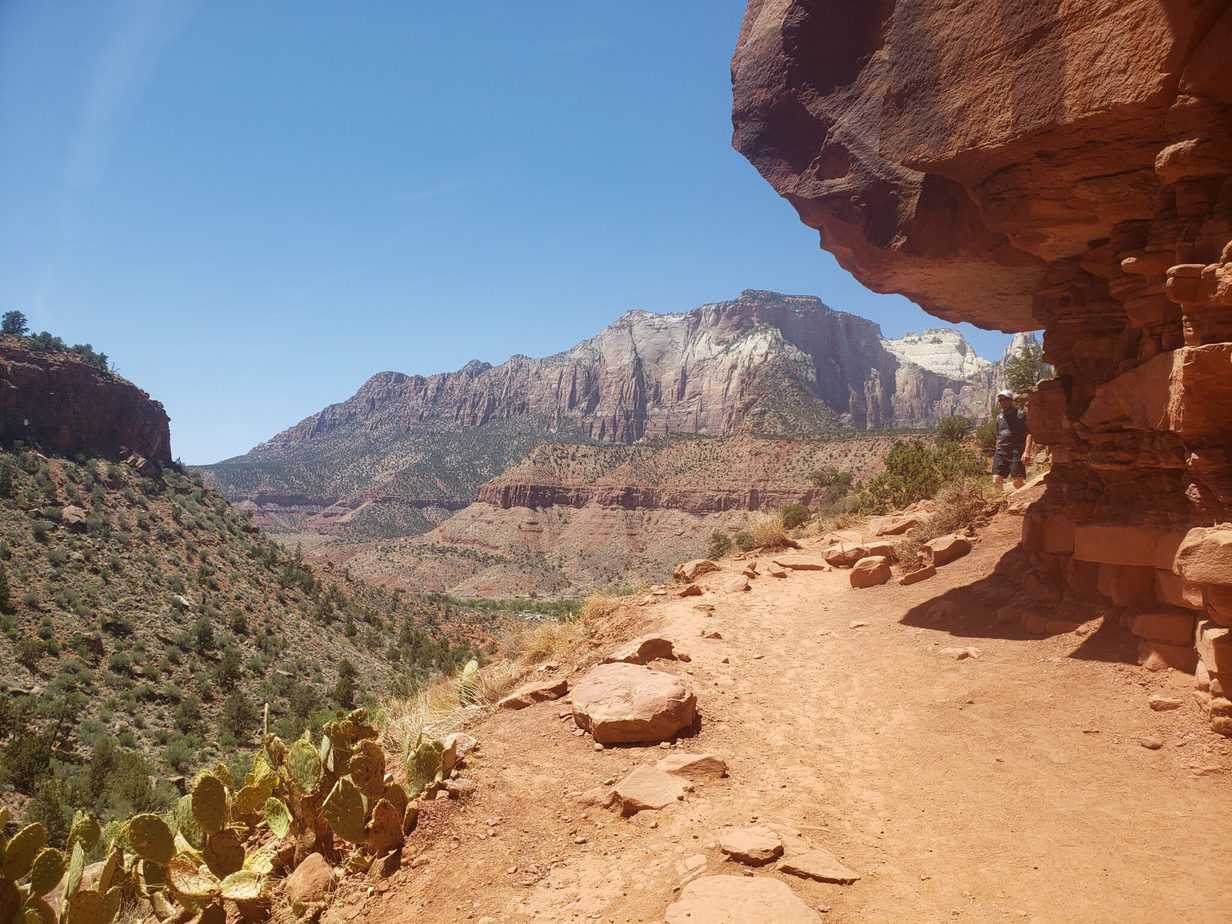 Also consider Kolob Canyons. I've been seeing this spot recommended a lot lately. While the hike is within Zion National Park, the entrance is on the totally opposite side. You just might experience this beautiful spot with far, far fewer crowds. 
Where to Stay in Zion National Park
Figuring out where to stay near Zion can be a challenge. There are a number of hotels in nearby Springdale that would be suitable, but these are likely to book up fast. If you plan in advance, booking one of the hotels near Zion National Park may be your best bet. If you choose one near to one of the Springdale shuttle stops, you won't have to worry about parking! Plus, after a hot day in the sun, you can return to the comforts of your air conditioned lodging.
One hotel to check out is the Cable Mountain Lodge, located super close to the Zion NP Visitor's Center. What an ideal location!
Many people prefer to camp in Zion or nearby. That is what we did this time on our trip, as we had rented a campervan for a short road trip out of Vegas. (Though I'm starting to think hotels are more my thing…..) Camping is a great, affordable option, but it can be tough to snag reservations at Zion during busy times.
We camped for two nights at South Campground inside Zion National Park. The fact that we scored a site was nothing short of miraculous. South Campground sites become available to book 2 weeks in advance of the travel date. And when I say 2 weeks, I mean 2 weeks on the DOT. I was able to get our site by being online at Reservation.gov just before 10am EST on the day bookings were opening. I was logged into my Reservation.gov account, had pre-selected my desired site that morning, and had it in my cart ready to go. Exactly at 10am, I clicked on the button to book. And boom, it was ours. 
As I said, these are very difficult to get, but if you follow the above procedure, you just might get lucky.
The other campground near the front of Zion is Watchman Campground, which books out 6 months in advance.
While the campgrounds were lovely, offering views like this: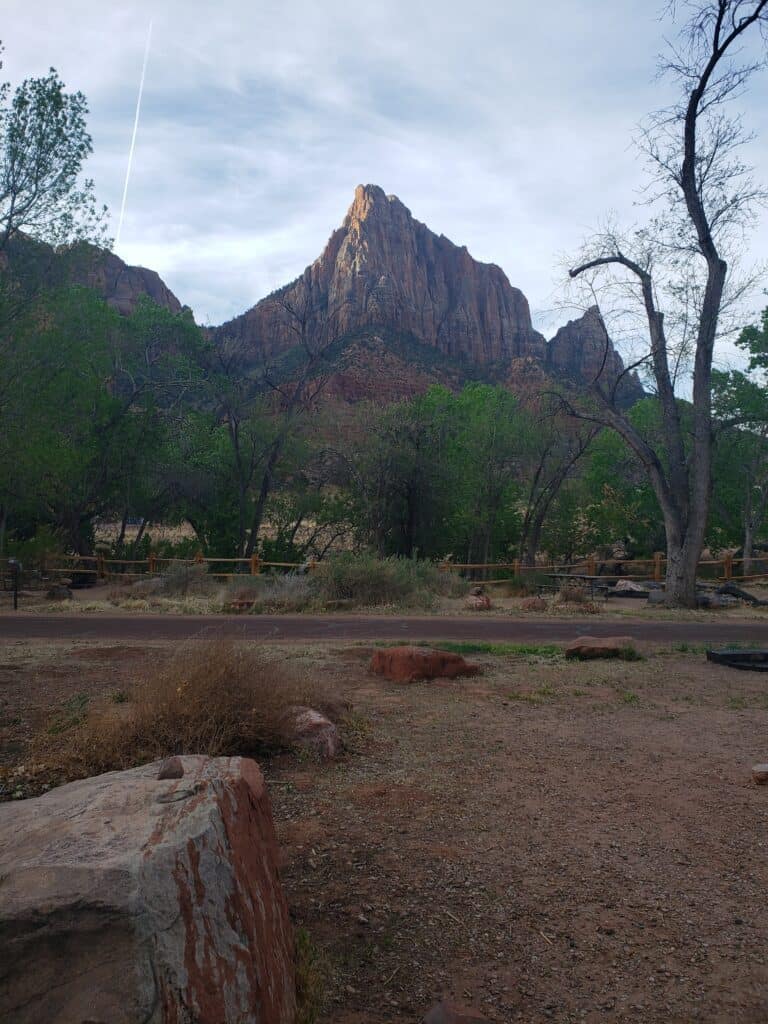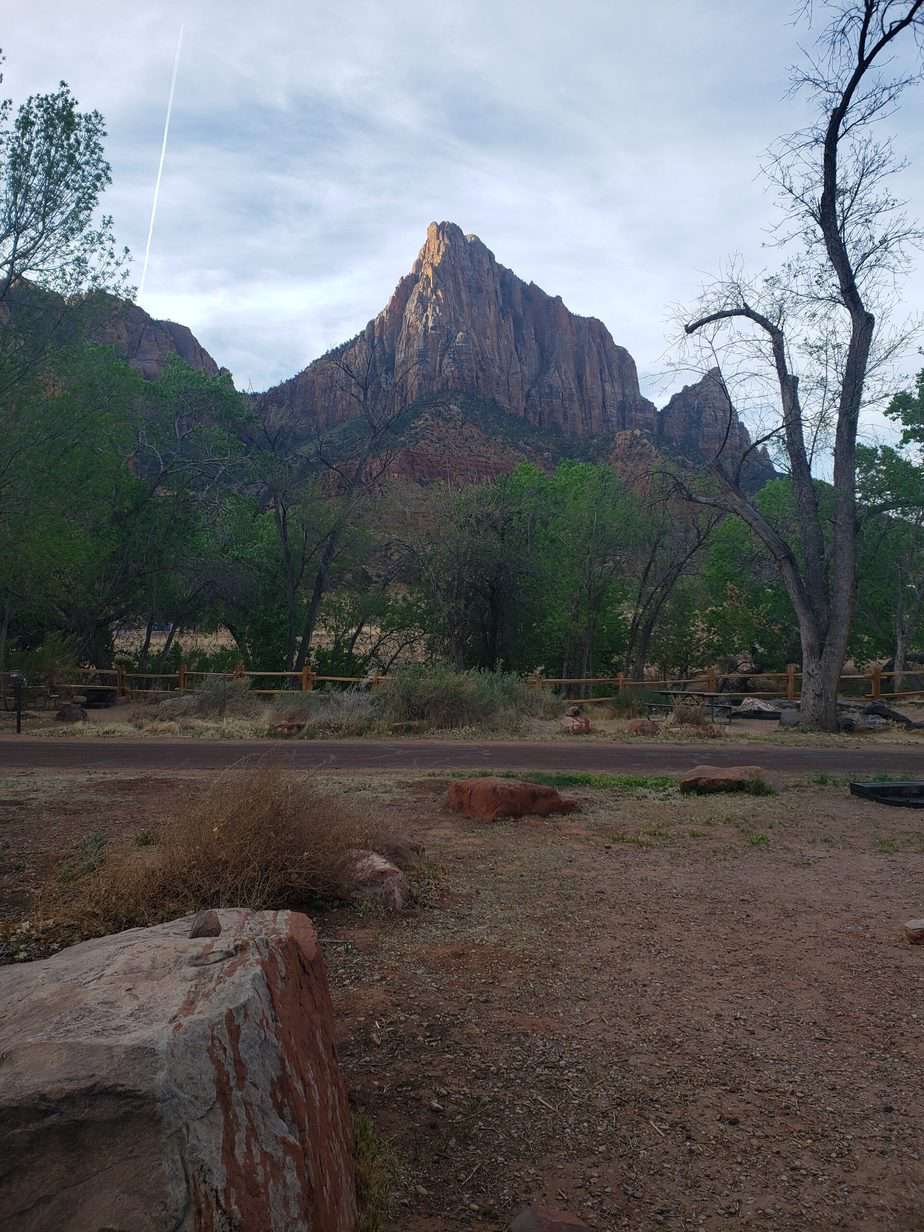 You should know there are no showers at the Zion Campgrounds.  While this is somewhat inconvenient, you CAN get a paid shower in a very nice facility at Zion Outfitter. This is just outside of the park and you can walk from your campground through the pedestrian exit to get to Zion Outfitter. They offer hot showers for $4 (5 minutes) and they also have laundry facilities underneath the store.
Pro tip: Don't forget your park pass or receipt when exiting, as you'll need to show it to get back in! 
Also, another pro tip: the America the Beautiful Pass is totally worth it. $80 for one year gets you access to all the National Parks and a total of more than 2,000 federal recreation sites. If you're visiting more than 2 parks on your trip (such as nearby Bryce Canyon and the Grand Canyon) then you'll definitely save money with this pass.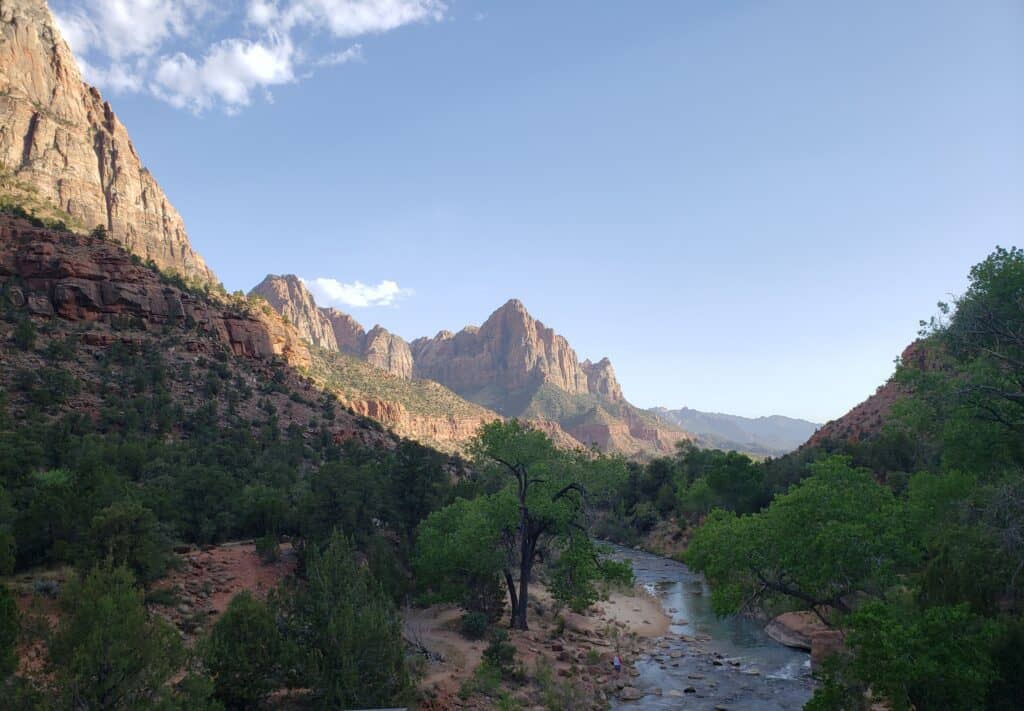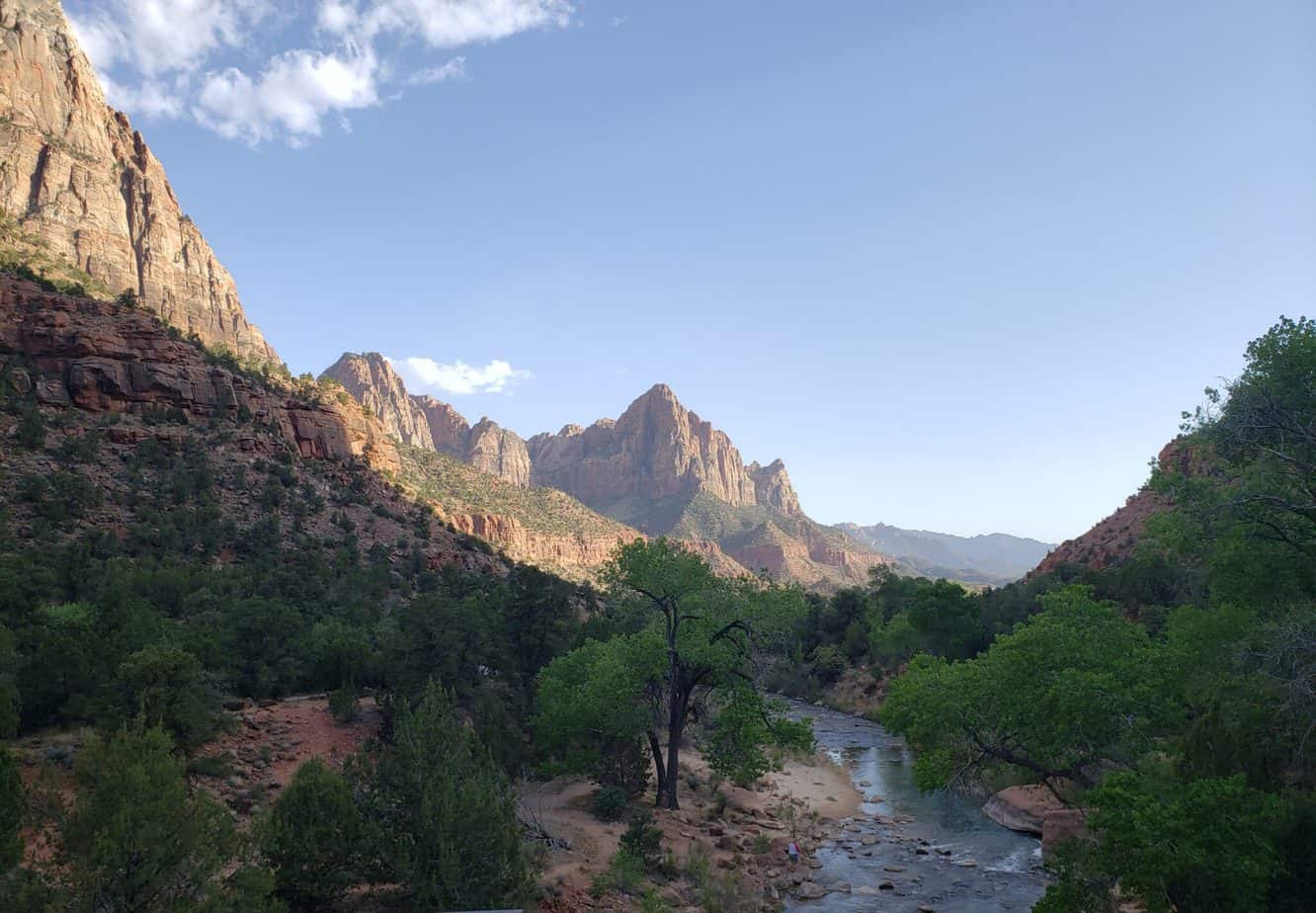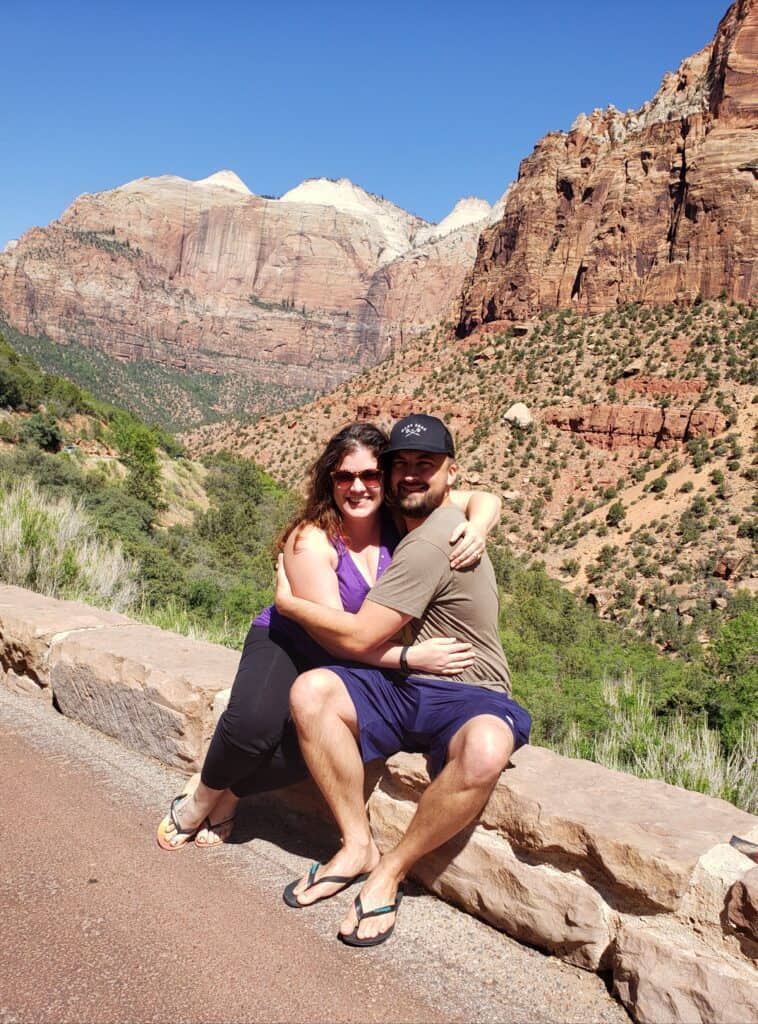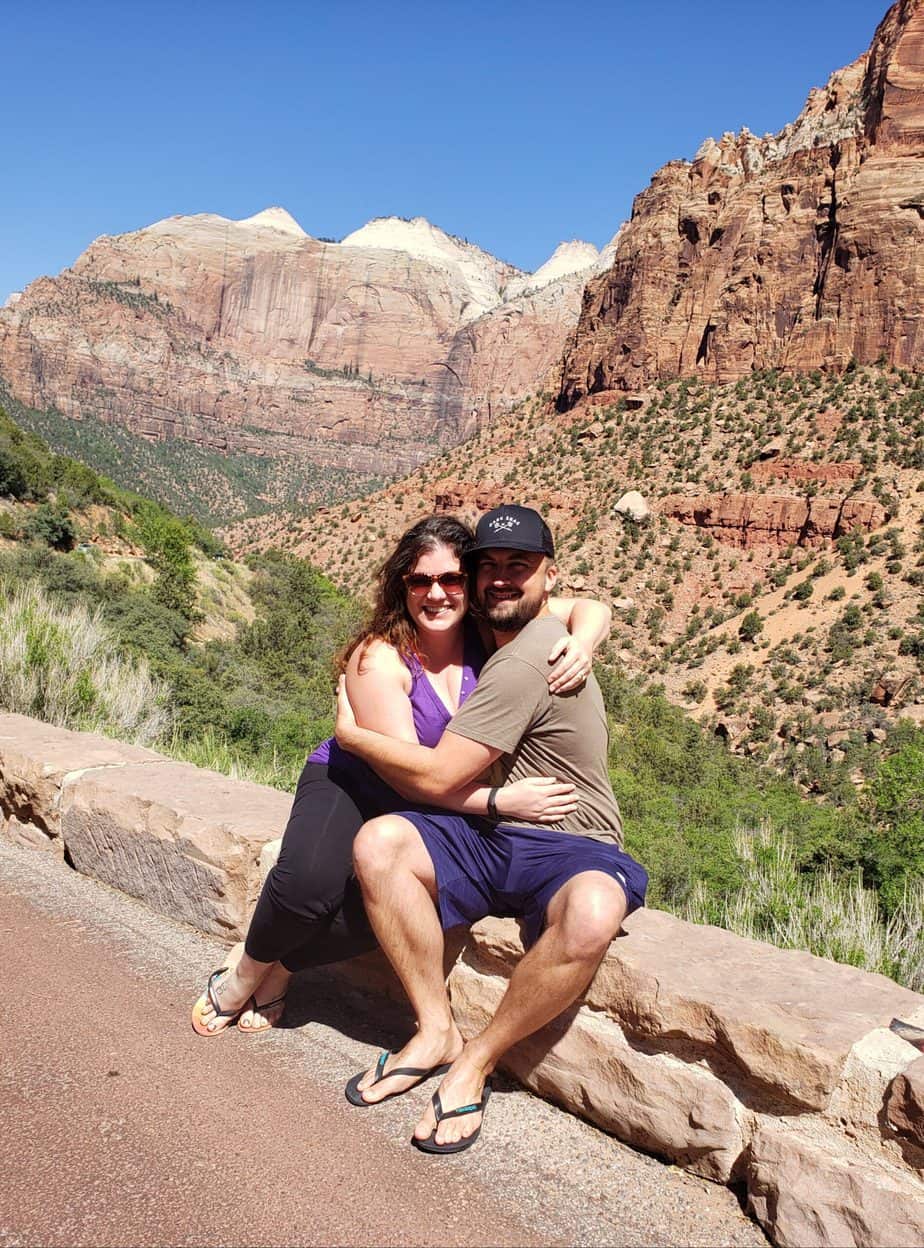 Zion National Park Itinerary: 2 Days
Day 1 in Zion
This is day one of your Zion itinerary, or even better yet, the evening before the first official day.
Arrive, get situated/checked in to your accommodation
Head to the park. Be prepared to wait in line if early-midday. Late afternoon may a faster entry.
If time allows, tackle one of the shorter or easier hikes in the park. We recommend the Pa'Rus Trail (paved and fairly flat trail that is great for biking) or The Watchman Trail (3 mile moderate trail with great payoff and views). Don't forget lots and lots of water! This is the desert! We both have Osprey Hydration Packs and they worked incredibly well for this trip.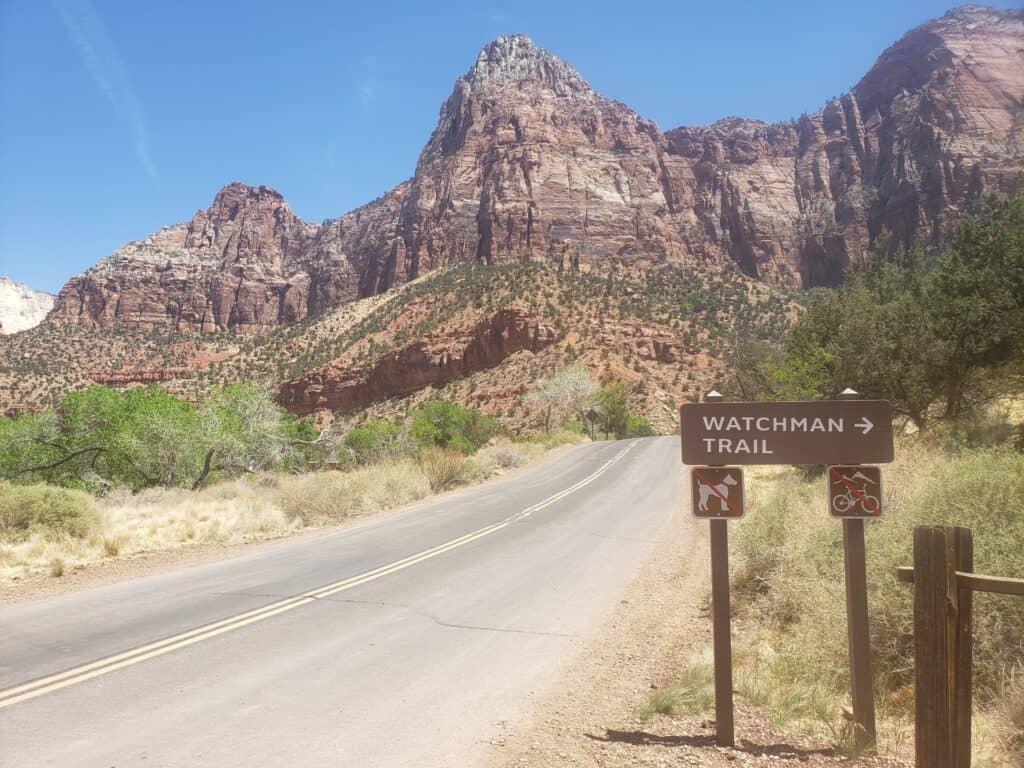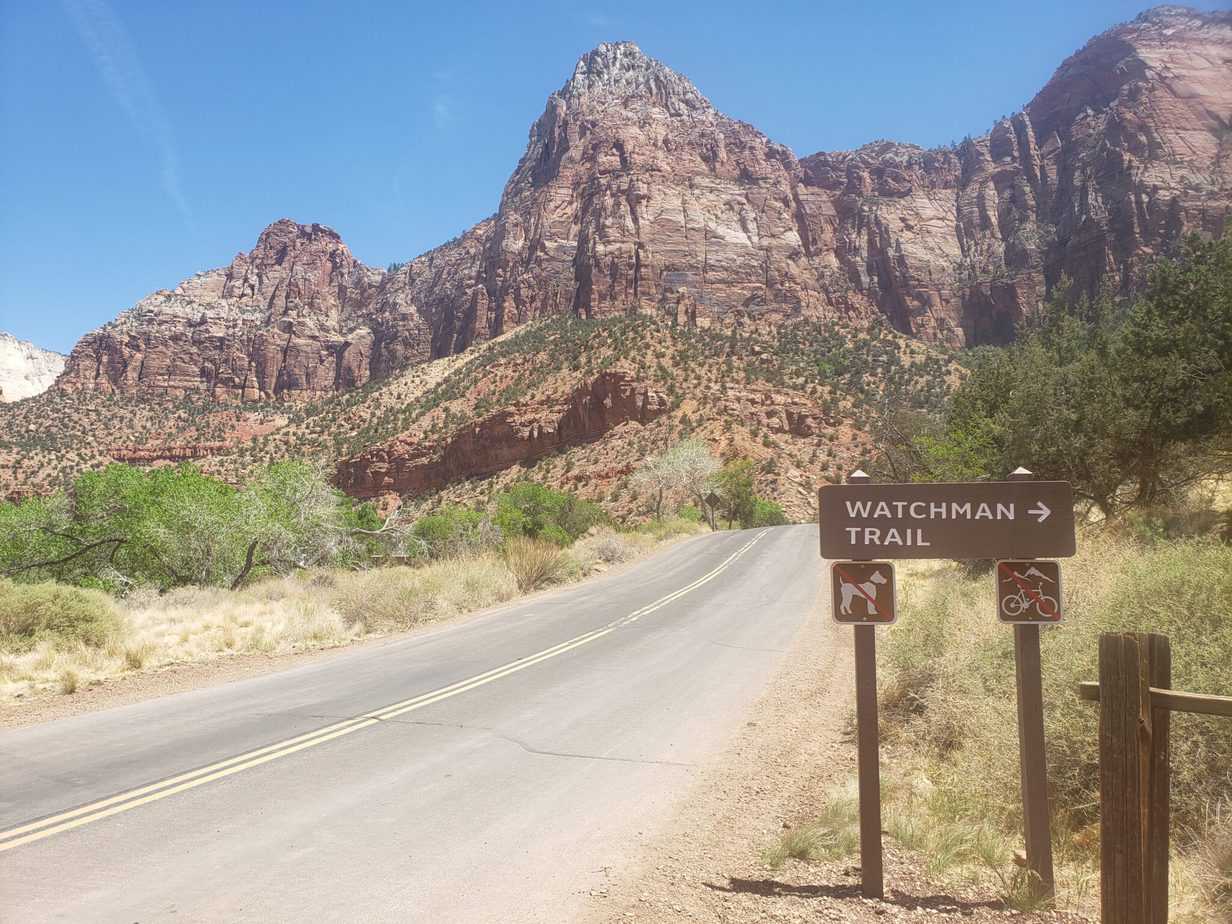 If hiking The Narrows tomorrow, grab any rental gear tonight. 
Make dinner at your campsite/dine in Springdale/at your hotel
Get a good night's sleep!
Day 2 in Zion
Today you'll be getting up early to tackle your "big hike" of choice. For most visitors, this is likely to be Angel's Landing or The Narrows.
We opted for The Narrows, as we weren't as keen on the steep drop-offs of Angel's Landing and thought that hiking IN A RIVER would be much more memorable. We were right! More on The Narrows hike below.
Day Two in Zion Itinerary:
Arrive at the park (early!)
Get your shuttle (early!)
Start your hike (early! – If you're opting for a laid back Zion itinerary, allowing yourself plenty of time to enjoy the day is key).
Complete your big hike (general recommendations allow 4-6+ hours for The Narrows, bottom-up, 5 hours for Angel's Landing). 
Grab a shower and lunch
Hop in the car and take a scenic tour of the Zion-Mt. Carmel Highway. There are tons of pull-offs along this stunning road, so even non-hikers will love this part of Zion. Pro tip: You don't need the Zion Shuttle to see this road. So if you don't score shuttle tickets, this is a perfection option to still see some of the best of Zion!
Do the Canyon Overlook Trail just before sunset for some pretty views (or tackle it tomorrow morning at sunrise for even better lighting!)
Have a great dinner and an easy rest tonight—you earned it!
Hiking The Narrows: What You Need to Know
Before talking about a potential 3rd day in Zion, I want to take a minute to share with you all that I know about The Narrows. Here's another great guide all about this hike, so if you want to read more in depth about The Narrows hike, click here.
Hiking The Narrows from the bottom up is what most people choose to do. There is an alternate option to hike from the top down, but that's a long hike for someone in better shape than I. If you're in moderate-decent shape, you'll be just fine with The Narrows bottom up, by the way. But keep in mind that it is challenging. You'll be walking much of the time right in the water (The Narrows is essentially right inside the Virgin River), with occasional spots thigh or even chest deep. When we went, May 2021, there was a thigh-deep portion of the hike about 15-20 minutes in. At that point, getting very wet is not optional.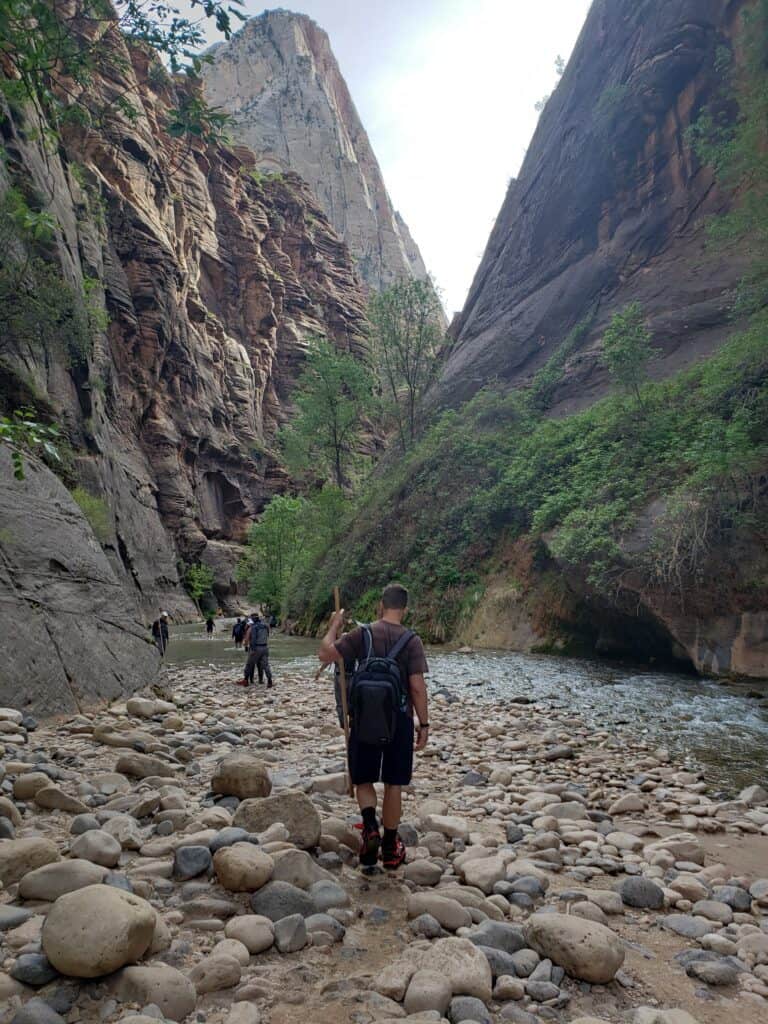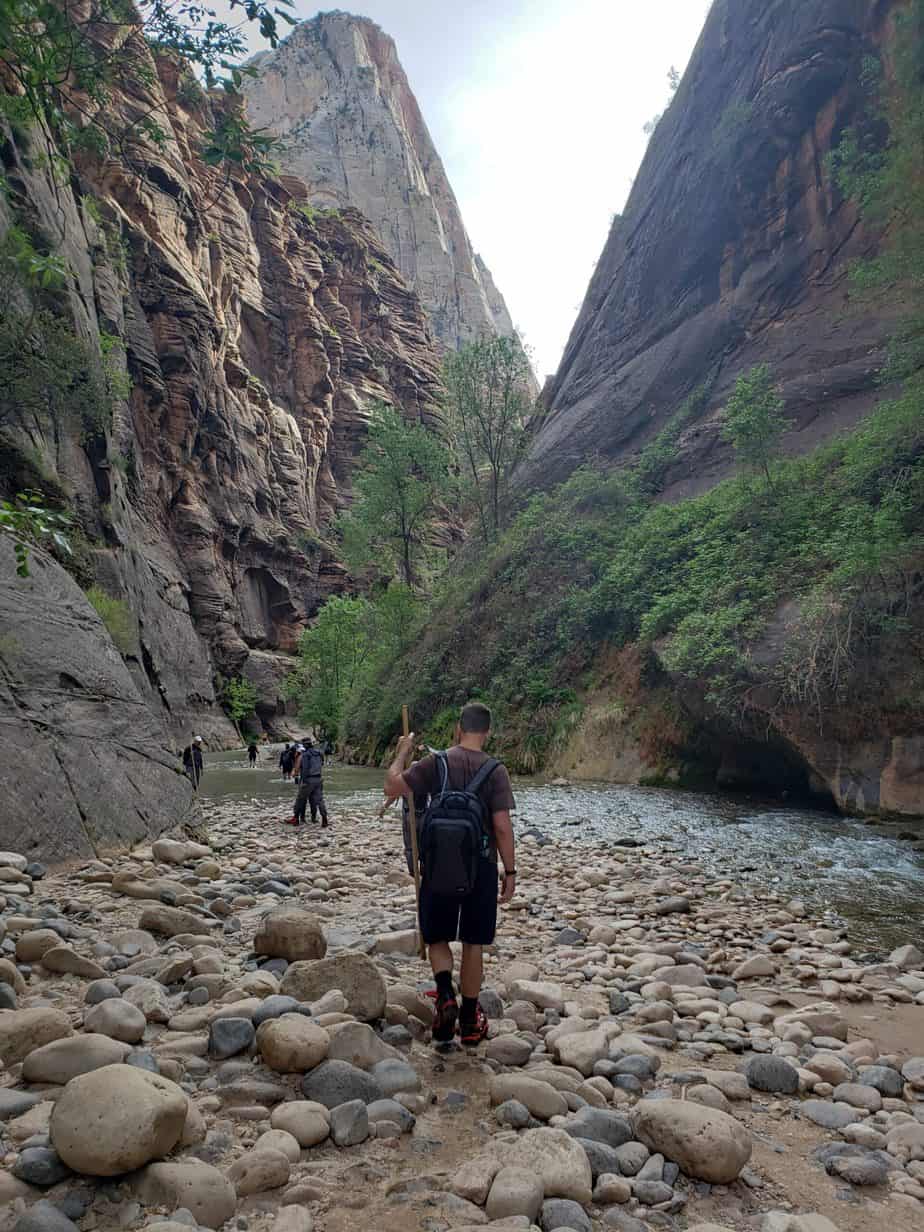 So how do you manage hiking in a moving river? Rent some gear! While many people will tell you that Narrows gear is unnecessary, we found it to be very useful for us. We rented gear from Zion Outfitter (located directly outside the park and right next to the pedestrian/bike entrance). Our summer gear included the water-friendly boots, neoprene socks, and a sturdy walking stick, for about $30 a person.
Could you hike in your own shoes? Probably. But they are going to get sopping wet. Even our rented "waterproof" boots got filled with water. But the real benefit of those shoes is the neoprene socks (so you're not dealing with wet cotton socks, ew) and non-slip soles. The shoes were supportive, easy to walk in, and I think prevented us from slipping more than we did.
And that stick that comes with the gear? Also really essential. On the way out to the hike, I wondered why I was toting this heavy wooden stick. It turned out to be an integral part of keeping myself steady and upright amidst the rocky bottom of The Narrows. This item is a must-have, in my opinion. Don't hike The Narrows without it.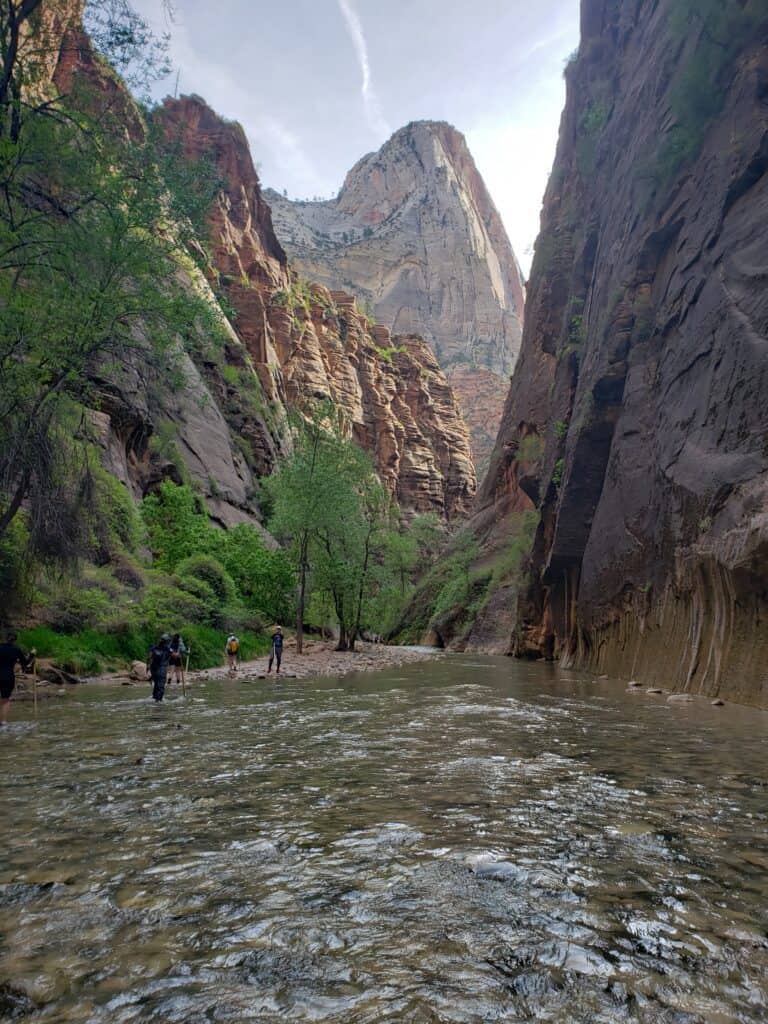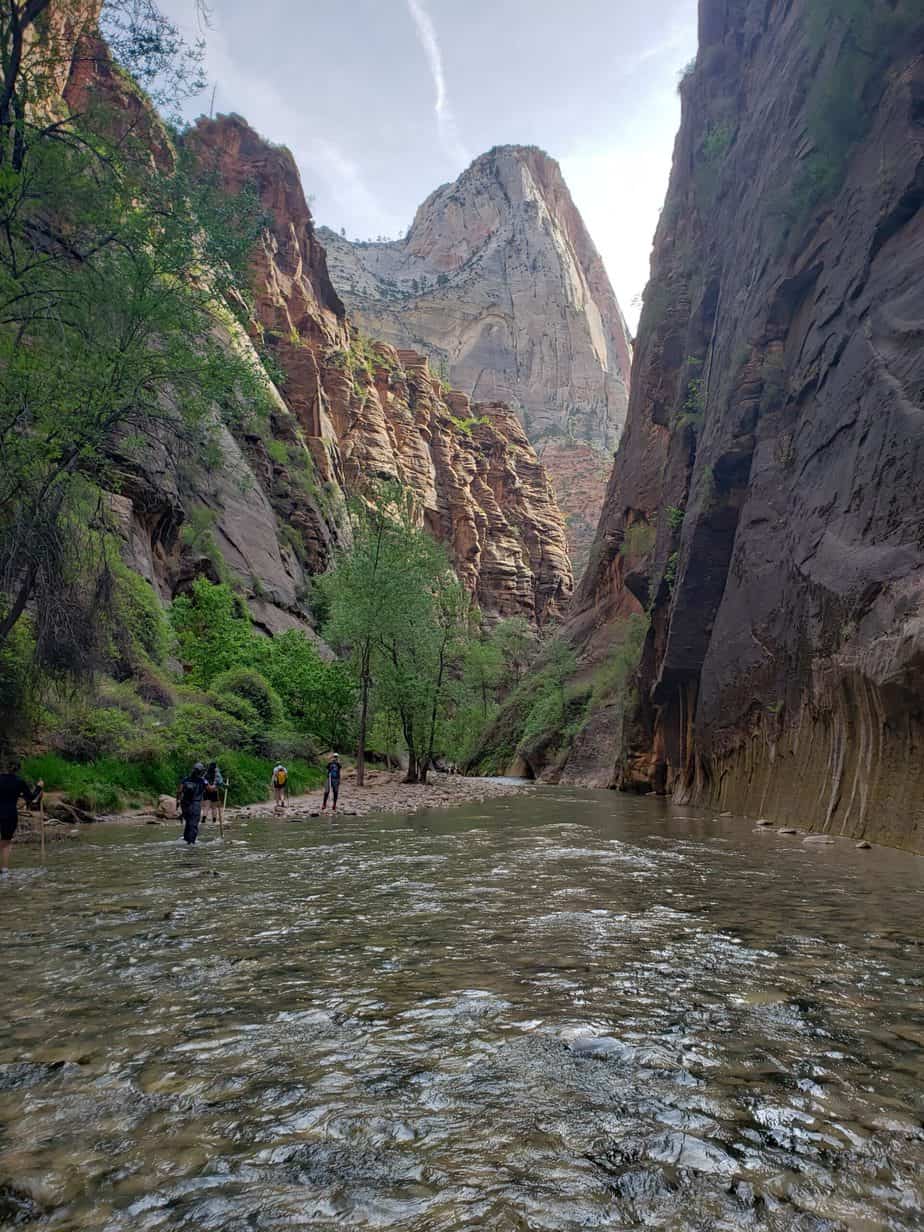 Currently (summer 2021), the Virgin River, and thus the Narrows, is experiencing an issue with a toxic cyanobacteria bloom. This sounds pretty scary, but the evidence shows that this has not deterred hundreds of hikers (us included) from attempting The Narrows. Please read the park's official information for the most accurate, up-to-date details about the bacteria. It would seem the risk is minimal and the biggest concern is not ingesting the water. Yet you have to make your own decision about whether to go. In the words of the Parks: "your safety is your responsibility!"
Day 3 in Zion, if Applicable
Now you've had two super fun, but not-too-crazy days in Zion National Park. If you have more time to spend here, that is awesome! I think you could spend a week in Zion and have an incredible trip experiencing nearly everything the park has to offer. 
But what if you have just one more day, or even just a morning in Zion? I recommend doing some kind of sunrise hike. Canyon Overlook is a fairly short trail (and is accessible from the Zion-Mt. Carmel Road, so you don't need shuttle passes). This makes for a lovely sunrise spot. But other hikes would also be a good option in the morning. You can't go wrong with those beautiful red rocks all around. 
---
You might also like:
---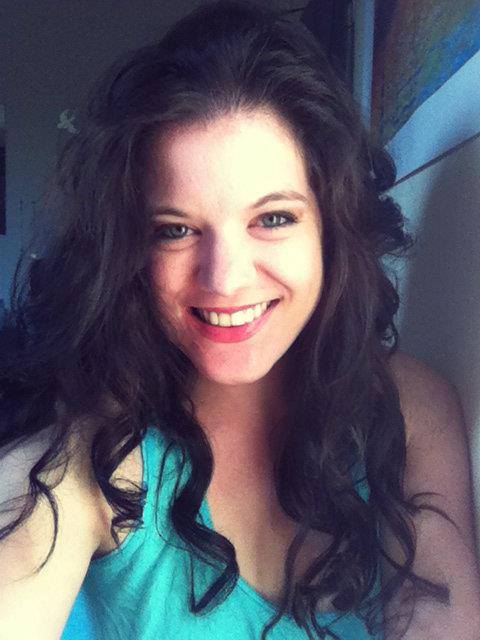 Amy Hartle is the co-founder and owner of Two Drifters, where she blogs about romantic and couples travel, relationships, honeymoons, and more. With a Master's in English and a BA in Musical Theatre, Amy loves to write quality content as well as to entertain, and she hopes to do a bit of both here on the blog! Amy lives in North Carolina with  her husband Nathan, and son Malcolm. When not working on their sites or traveling the world, the Hartles can be found cuddling, reading, and hanging out with their cats.
[ad_2]

Source link